Cam-profile gaskets consist of a metal core with concentric grooves on either side, topped by sealing materials tightly pressed into the grooves.
The soft sealing material is thus confined and optimally densified in the valleys of the profile, allowing for only a slim layer between its tips and the flange surface, where a series of concentric seals is created.
This construction enhances sealing performance by inducing stress concentrations on the sealing surfaces, while the metal core provides rigidity and blowout resistance.
Cam-profiles are said to be the best of three worlds:
they require low seating stress like sheet gaskets;
provide excellent tightness, due to the minimum thickness of the sealing layers, like spiral wound gaskets;
have the handleability of a solid metal gasket (no springing apart during installation, no buckling in service)
As a consequence Cam-profiles are highly suitable for varying temperature and pressure services, for light as well as heavily constructed flanges. Other benefits are low sensitivity to assembly faults, and the possibility to re-use the metal cores after being cleaned.
---
Common constructions:
No ring


Ideal for use in confined locations, including male and female tongue and groove and recessed flange type arrangements. These gaskets easily replace jacketed gaskets on heat exchangers, as they offer better sealing and seating performance. Suggested for complex shapes.
---
Integral outer ring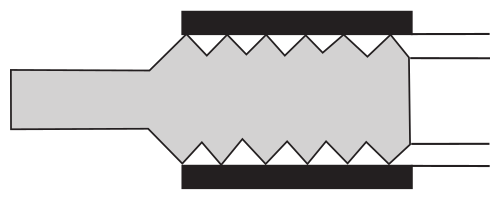 The outer locating ring allows for correct gasket positioning within the mating flange bolt circle. Recommended for use on standard raised face and flat faced flanges.
---
Loose outer ring


Often preferred where flange differential radial thermal expansion may be encountered. The loose outer locating ring, which may also be spot welded, reduces gasket cost, as it can be obtained from less expensive material (i.e. carbon steel).
---
Cam-profiles gaskets can be made according to standards, as well as to customers' specifications in various designs.
Use of cam-profile gasket in heat exchanger applications will ensure a reliable seal, from initial hydrotest through difficult operating conditions. They are suitable for TEMA flanges. When required, pass partition ribs can be supplied in any configuration.